The Advantages of a professional Website Package Over a DIY Online Store
Your Website
eCommerce
Email marketing
Automation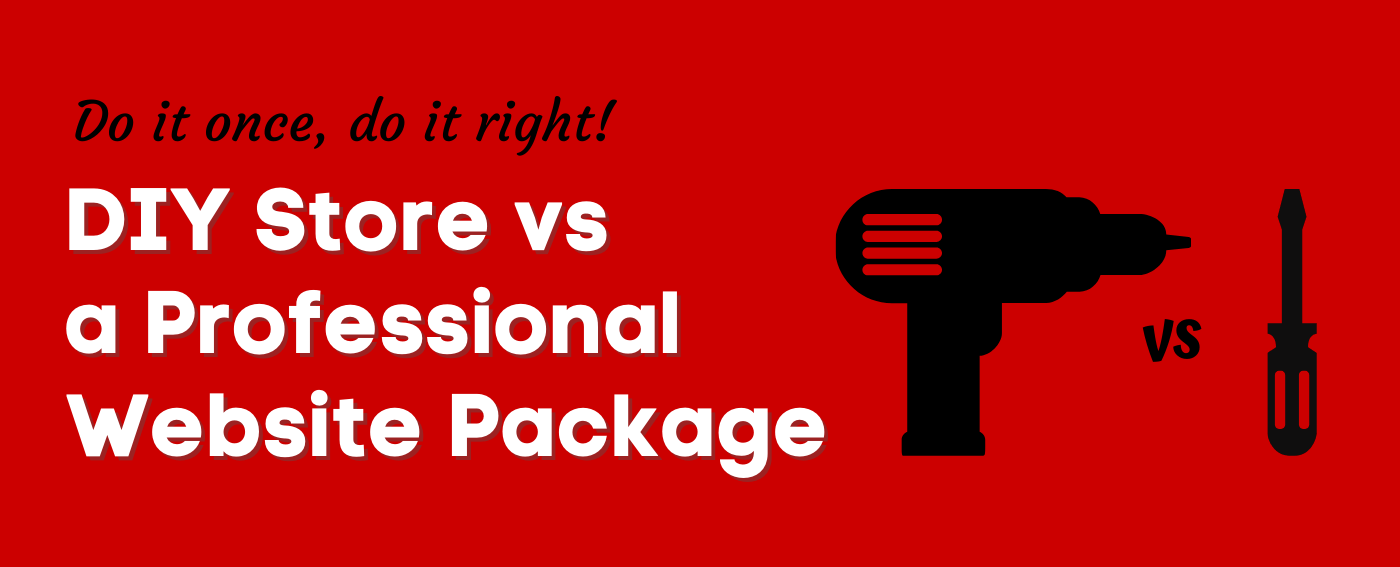 Have you ever considered the advantages of a professionally built and managed online store from industry experts with years of experience, over the many DIY solutions on the market today? Have you given any thought to the best way to get the most from your website, without breaking the bank, and claiming all your time? Have you ever thought your current DIY website may be hindering your online business growth and could do with an overhaul? Or are you simply too busy building and maintaining your DIY website solution?
The advantages of using a 'ready-made' online store solution built by professionals, over a DIY website solution are many!
Firstly, we know what works, we know what will not work, and we know what will grow your business quickly. If you do not have years of experience thrown in behind you, then all you have to do is follow a professional system designed to grow your business online. This is the real beauty of it - you can sit back, relax, and let the experts do the bulk of the hard work for you.
Secondly, we know what is possible, because the website packages that we have developed don't just work for your business, they are working for other businesses already. Our eCommercePRO website solution has been designed and tested to deliver real world results. You just sit back, relax and let the experts do the work, whilst you concentrate on building your business.
Thirdly, we know what is already out there. There is no point in re-inventing the wheel, and you do not need to re-invent the wheel either. This is exactly why it is so easy to buy a ready-made online store & website package from an expert web design company like us. We know exactly what our product offers, we know the features and benefits that will help you grow online, and we know how to optimize it to get you the best possible start in Google. In comparison, you are at a major disadvantage building your own site from scratch if you do not have this knowledge. For example, does your website get 80% + in both mobile and desktop in Google Insights? If not, this is just one of many possible limitations of your current DIY website solution.
Fourthly, we will impart our expert advice to help you succeed online. Not only will we give you professional advice and tips you need along the way, but we can tailor everything to your unique business requirements. Our expert knowledge means that you will know exactly what you need and how to find it. Your satisfaction is knowing that you have found something that will work for your business, not against it.
When you consider all of the advantages of a ready-made website package over a DIY online store, you will realise how important it is to make sure that you do this once, and do it right! You never know when something might go wrong and you need expert help. Don't end up like so many many businesses we see in New Zealand, with a poorly designed website and a website fighting hard to compete online. This could lead to a lot of frustration and you could be losing you a lot of time and money. Instead, give yourself as the time and expert knowledge to get things done right.
Remember, all our eCommercePRO websites are developed in under four weeks and come with our 80% +Google Insights Guarantee. Find out why this is so important here. Don't rush into anything, and if you do need more assistance, then contact us today to see if our eCommercePRO website solution is right for your business.